I am what you might call a trygonophile. I just can't get enough of Freshwater Stingrays. Over the years Ned has brought in a number of great, and often surprisingly hardy species. These have mostly included the spotted rays of the species leopoldi, henlei, and motoro, although we occasionally get a hystrix or related ray as well. Infact, we have three

Marbled Motoro Rays

and a

Hystrix-type Ray

at the store right now!

The video clip below shows a pair of

Potamotrygon motoro

that I brought home from the Fish Factory half a decade ago. I placed them in a 215 gallon tank and grew them out in hopes of breeding them. They didn't need much convincing and as it became clear that the female was very VERY pregnant I began filming. Four days of straight filming on VHS 6 hour tapes finally yeilded this fantastic birth/mating sequence. The female gives birth to her first pup at the start of the clip, is immediately attacked by the usually docile male, and then proceeds to give birth three more times. It is a bit brutal, but they are basically sharks after all. Let me know what you think!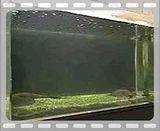 •THIS VIDEO MAY NOT BE COPIED OR USED WITHOUT THE EXPRESS PERMISION OF SAM JAFFE•